Five Chinese Dissident Artists Who Aren't Ai Weiwei
Comments Off

on Five Chinese Dissident Artists Who Aren't Ai Weiwei
Originally published by The Huffington Post on June 10, 2014
It's easy to think Chinese political art stops at Ai Weiwei, the embattled provocateur who is arguably the art world's most famous living figure. In fact, a small circle of Chinese artists routinely court danger with their work, not to mention derision from mainstream stars enjoying the market's love affair with Asian art, who consider anti-party stances "passé."
There's nothing banal about the punishment dissidents face though. According to the Chinese Human Rights Defenders , an international grassroots coalition, more than 100 noted activists have been taken into custody in the lead-up to last week, when the world outside of mainland China noted the 25th anniversary of the crackdown at Tiananmen Square. Some of those arrested were soldiers themselves, turned artists from the horrors they've seen. Most exhibited their work in private, but were sniffed out anyhow. Below, a look at those who dare to aggravate the state.
1. Guo Jian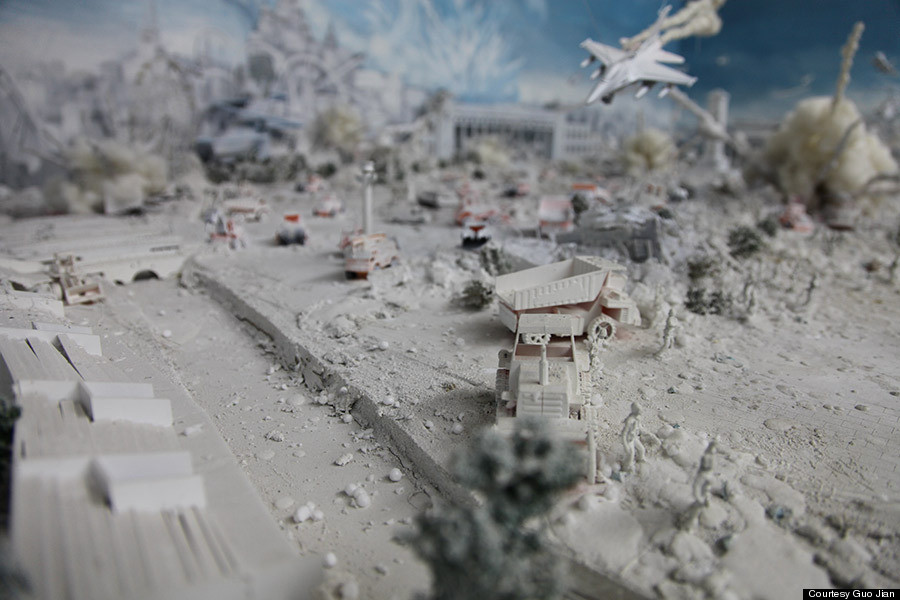 Photo courtesy Guo Jian.
Guo Jian has said he identifies both with the protesters at Tiananmen Square and the soldiers. Like many Chinese of his generation, the artist was a teenage member of the People's Liberation Army. In college, his worldview changed. He joined the student protesters flooding into the square, and left with memories that haunt him today. A few, he recalled to the Financial Times this summer: 100 corpses stacked outside a hospital, in an area normally reserved for bicycles; a wounded man with "blood running like a water fountain."
The interview also touched on his latest work, a large diorama of Tiananmen smothered in more than 350 pounds of minced pork (an image of which is posted above). Shortly after the article appeared in the FT, Guo was taken into custody by Chinese officials earlier this month, ostensibly for issues relating to his visa.
2. Yan Zhengxue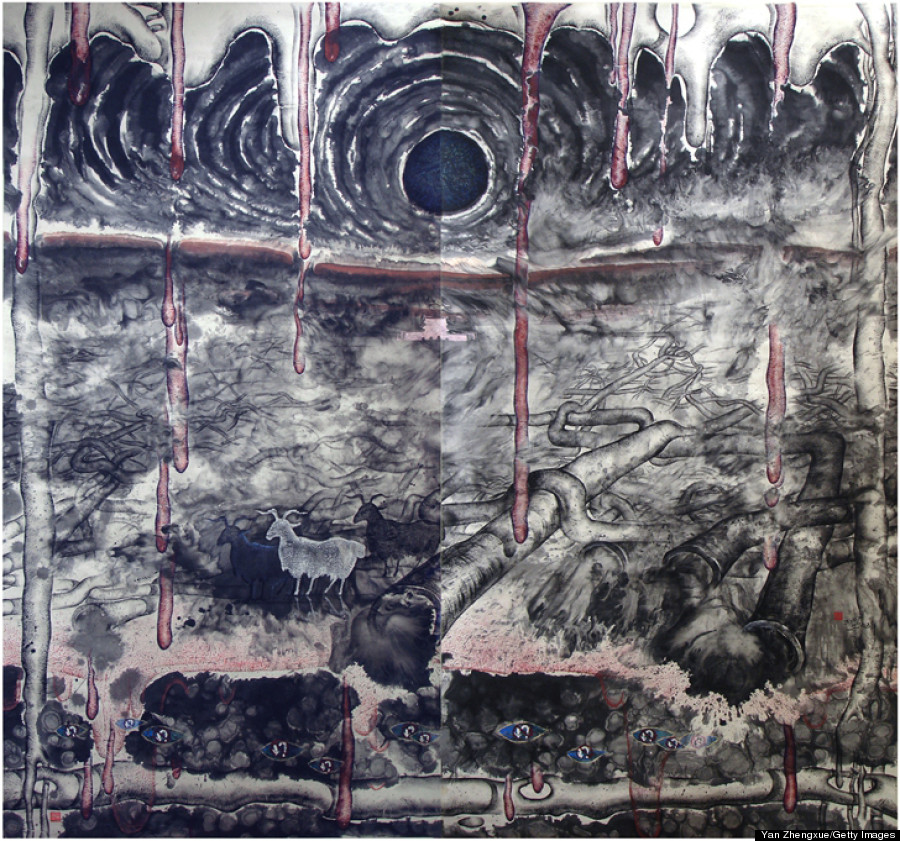 Photo courtesy Getty Images.
Yet another artist said to have disappeared ahead of the Tiananmen anniversary, Yan Zhengxue is no stranger to detainment. Last year, he wrote on a human rights-focused website of Chinese officials locking him in a "rubber cell" in the 1990s, where he says he was "tortured for three hours with electric shocks from six electric batons used simultaneously." More than a decade later, he says, he was imprisoned again, from 2006 to 2009.
The image above is of a painting he completed while in jail. Titled "89.6!!!! Tiananmen," it shows a blackened sun over a desolate Tiananmen Square, wreathed in dark veins. Of the three goats standing in the center, Yan told the Washington Post, "They represent the obedient ones, the only ones left alive."
According to a report by the CHRD, Yan and his wife were among those "forcibly taken 'traveling' by authorities" this spring, "in order to leave Beijing before June 4."
3. Liu Yi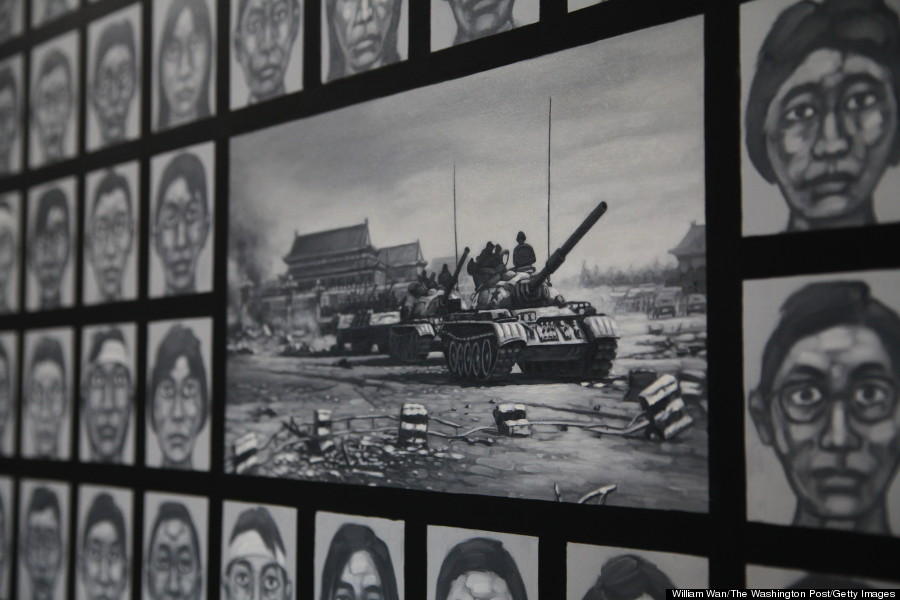 Photo courtesy Getty Images.
Liu Yi began the painting above in secret in 2006, a collage of faces meant to represent the victims of the 1989 crackdown. He showed it only to his wife and a few close friends, hoping to avoid trouble from authorities and to protect his commercial work. In the same WaPo story that profiled the work of Yan Zhengxue, Liu Yi finally debuted his piece to the public. "I can't explain why but I felt a need to do something for the people who died," he said. "I think for many, the trauma is still somewhere inside. Once I finished the series, I felt a kind of peace."
4. Zhao Zhao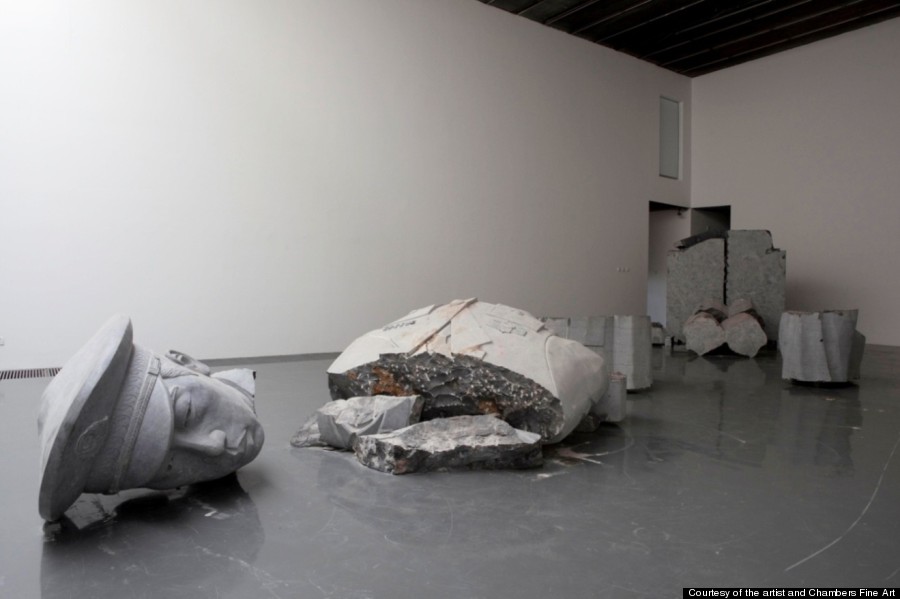 Photo courtesy Chambers Fine Art.
A protege of Ai Weiwei, 31-year-old Zhao Zhao is routinely touted in the West as the next big rainmaker. In China, the attention is of a different kind: Zhao is a frequent target of government interference, and "one of the most at-risk people in the country," according to the Beijing-based German art dealer Alexander Ochs, who spoke with Der Spiegel about the young artist last year.
Indeed, in recent years, Zhao has kept a lower profile, citing stress placed on his family by government hecklers. His more provocative works often circle the legacy Ai has already created, like the one shown above. He cast the intentionally "ruined" sculpture of an enormous Chinese police officer during Ai's imprisonment in 2011. On the officer's uniform is carved the date of Ai's arrest.
Along with several other works, the rubble-like sculpture was to launch Zhao's international career at a Manhattan gallery show in 2012. He's managed to make a name for himself despite the fact that the grand debut never happened: Chinese officials confiscated the entire exhibit shipment before it hit the water. The broken officer was later targeted once more by authorities, who ordered it removed from a Beijing gallery show on the grounds that it wasn't art.
5. Chen Guang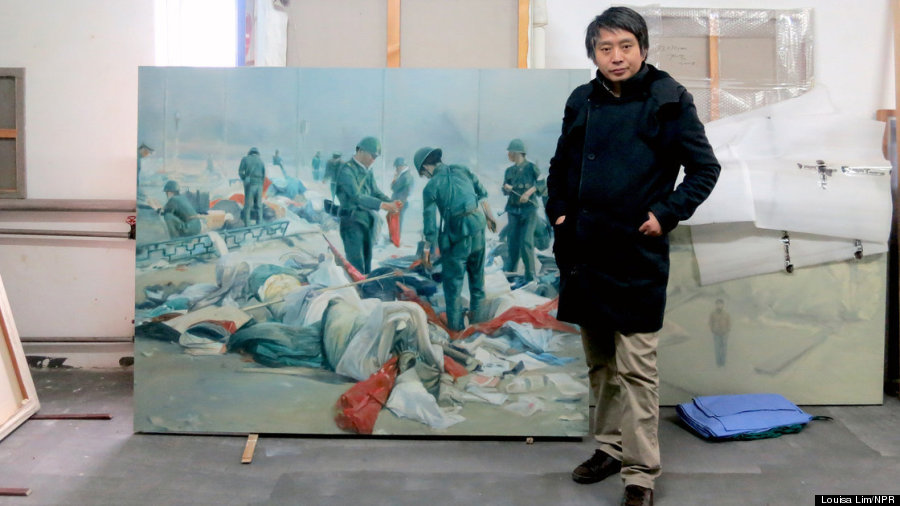 Photo courtesy NPR.
Chen Guang has talked about being "brainwashed" as a young recruit to the PLA. The horrors he witnessed as a soldier at Tiananmen now inform his work as an artist, which drips in the imagery of blood. Chen too was taken by authorities ahead of the anniversary this year, in a dramatic series of events documented by The New York Times. A private show staged in his home — in which he whitewashed over a series of painted numbers signifying the years between the 1989 shootout and now — ended in a flurry of calls from authorities, he informed the Times, in a harried series of texts. A few days later, his friend told the paper, he was taken away by four police vehicles.
In the photo above, snapped a year ago for an NPR profile that ran this month, Chen stands in front of a painting of his memory of clearing Tiananmen Square as a soldier.